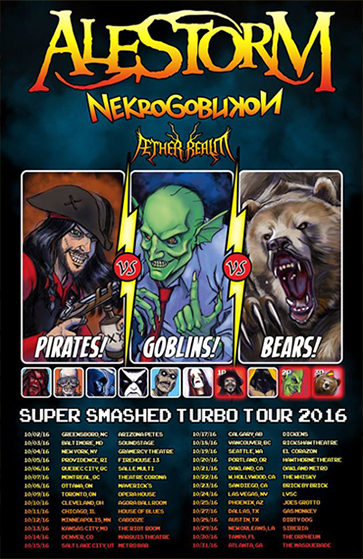 Tour with Alestorm & Nekrogoblikon
We're stoked to announce the dates for the SUPER SMASHED TURBO TOUR!
We're kind of pissed that Alestorm's making us Player 3, but I guess it IS their game, and we are sleeping over at their house, and Nekrogoblikon has to play with the shitty controller-it's only fair.
See you in October.
10/02/16 Greensboro, NC – Arizona Pete's
10/03/16 Baltimore, MD – Soundstage
10/04/16 New York, NY – Gramercy Theatre
10/05/16 Providence, RI – Firehouse 13
10/06/16 Quebec City, QC – Salle Multi
10/07/16 Montreal, QC – Théâtre Corona
10/08/16 Ottawa, ON – Maverick's
10/09/16 Toronto, ON – Opera House
10/10/16 Cleveland, OH – Agora Ballroom
10/11/16 Chicago, IL – House of Blues
10/12/16 Minneapolis, MN – Cabooze
10/13/16 Kansas City, MO – The Riot Room
10/14/16 Denver, CO – Marquis Theatre
10/15/16 Salt Lake City, UT – Metro Bar
10/17/16 Calgary, AB – Dickens
10/18/16 Vancouver, BC – Rickshaw Theatre
10/19/16 Seattle, WA – El Corazon
10/20/16 Portland, OR – Hawthorne Theatre
10/21/16 Oakland, CA – Oakland Metro
10/22/16 W. Hollywood, CA – The Whisky
10/23/16 San Diego, CA – Brick by Brick
10/24/16 Las Vegas, NV – LVSC
10/25/16 Phoenix, AZ – Joe's Grotto
10/27/16 Dallas, TX – Gas Monkey Bar & Grill
10/28/16 Austin, TX – Dirty Dog
10/29/16 New Orleans, LA – Siberia
10/30/16 Tampa, FL – The Orpheum
10/31/16 Atlanta, GA – The Masquerade